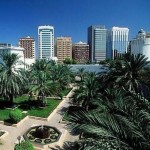 Asia is the largest continent on Earth, and its boundaries stretch from the deserts of the Middle East to the tropical rain forests in Vietnam. When it comes to legal recruitment, law professionals seek employment in many Asian countries in a variety of environments. Recently, the United Arab Emirates city of Abu Dhabi has become a hotbed for international law firms and legal companies.
Sustainability groups
Zawya reported that international law firm DLA Piper recently became the first company to join the Abu Dhabi Sustainability Group, which is based in the city and part of the Abu Dhabi Environment Agency.
"As an international firm, we have the responsibility to actively promote sustainability management and reporting within our business," said DLA Piper regional managing partner Abdul Aziz Al Yaqout, according to the news source. "Our involvement with ADSG [means] we will support [the] environmental and social efforts in the Emirate of Abu Dhabi and more broadly in the UAE."
Mergers and acquisitions
Legal professionals are also needed to govern and negotiate the merging of corporations in the city. The National reported Aldar Properties and Sorouh Real Estate are currently working out the kinks in a proposed $15 billion merger agreement. Both companies are employing massive teams of lawyers to help navigate the complex legal landscape required by such a large deal.
"A due diligence process is now underway to assess in detail the implications for all stakeholders, and this process will take a number of months," said the two companies, according to the news source.
If you are seeking legal recruitment in Abu Dhabi, let our attorney headhunters help you out. Our experts specialize in gaining access to career postings that may not be available to the general public.
Related Posts: