Alexis Lamb here, fresh off a trip to the Lion City where I enjoyed daily jogs in the Botanic Gardens, lip-smacking good pepper crab at Lau Pa Sat hawker centre, a stunning sunset view with craft beer in hand at Level 33, and some unexpectedly tasty tapas at Sabio in Duxton Hill, a newly-gentrified neighborhood which was recently the topic of a NYT photo essay. Yep, Singapore is growing up.  She's shedding her dowdy image as the girl in the horn-rimmed glasses and grey cardigan who nurses one pinot noir before retiring to bed at 11:17 PM.   She's learned a few party tricks from big sister Hong Kong, yet maintains an air of sleek maturity–without the pollution.  Now on to business.
A "PROLIFERATION OF WORK, UNLIKELY TO FALL AWAY"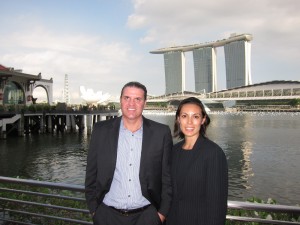 Indonesia. India. Thailand. Vietnam. Malaysia. Philippines. Singapore is the regional financial hub for all of these markets.  So, at any given time, dealflow from these countries – plus dealflow originating from within Singapore – is in the pipeline.  Contrast this with Hong Kong, who sources most of its work from the PRC, either in the form of PRC IPOs or PRC-driven M&A activity, and you will see its unique advantage.  While Singapore will never be the global financial hub that is Hong Kong, it covers a variety of markets and is diversified enough so that it is not dependent on one particular country for the bulk of its activity.
When one country's business  is down – India, for example – lawyers still stay busy as a result of work flowing out of other robustly performing markets, such as Indonesia.  One partner described his firm as being inundated with a "proliferation of work" that is "unlikely to fall away".  And this is even with India being relatively moribund.  Imagine how busy Singapore-based lawyers would be if both India and Indonesia were booming at the same time!
WHAT'S HOT:
PARTNERS WITH STRONG BOOKS OF BUSINESS.  We have been approached by more than one law firm looking either to acquire partners in strategic practice groups for their Singapore office, or looking to do the same to facilitate opening an office in Singapore.  Why Singapore?  Singapore is relatively under-lawyered, especially at the elite (read: "BigLaw") levels.  This explains why a number of US and UK firms are eying entry into the Singapore market, seeing Singapore as a key strategic hub for project finance, as well as M&A, capital markets and even arbitration activity. Project finance remains the biggest draw, and Indonesia drives much of the dealflow in mining, metals and infrastructure.  Singapore's location – a 2-hour flight from Jakarta – puts it in a unique position to capture much of the work coming out of Indonesia.  Some offices in Singapore source up to 80% of their dealflow out of Indonesia.  Many firms looking to capitalize on the strength of the projects, energy and mining sectors are sniffing around in Singapore for projects/energy partners willing to "greenfield" their Singapore office.
PROJECT FINANCE ASSOCIATES.
Every firm's projects practice is different, often depending on the client bases of the relevant projects partners in the office.   Some focus more on energy and oil and gas work.  Others focus on infrastructure development.  Still more focus on mining/metals.  Some teams focus more on financing the actual projects, others focus on project development. What this means is that associates – most often with qualification in the UK or Australia – who have any sort of project finance, oil & gas (especially upstream LNG), or infrastructure experience, especially in Southeast Asia, are highly valuable.  Some practice groups are open to retooling an M&A or a straight finance associate into the projects group, but specific experience is necessary for more senior roles.
As with all positions in Singapore, language skills are not necessary, but firms have mentioned that Bahasa Indonesia skills are prized.
At this time, there are at least three firms seeking projects/energy lawyers of varying seniorities, ideally with qualification in the UK or Australia but who could also be qualified in the USA.
ARBITRATION ASSOCIATES.
Singapore has enjoyed its long-time status as a regional hub for international arbitration, and has recently begun to challenge Hong Kong as a global arbitration hub by creating a "multi-billion dollar" market for resolving cross-border disputes. To facilitate this goal, Singapore's government has proposed changes to legislation which would recognize oral, and not just written, arbitration agreements. Lower costs and closer ties with various Southeast Asian countries such as India also give Singapore an edge over Hong Kong for Southeast Asian-based dispute resolution.
Maritime-related arbitration definitely looks to be on the rise. Singapore is also rapidly becoming a hub for oil and gas-related arbitration.
We are working with a few firms on junior to mid-level arbitration roles.  One of these roles requires native Mandarin skills.   Experience on commercial/joint venture disputes work and construction work would also be valuable.
US CAPITAL MARKETS ASSOCIATES WITH RULE 144A EXPERIENCE.
There will always be a demand for US capital markets associates with "biglaw" training who have experience with offerings under Regulation S and Rule 144A.   These kinds of offerings are the bread and butter of most US capital markets practices in Singapore.  A US-trained lawyer with no Mandarin or Korean language skills will find Singapore a much more natural place for his or her career to flourish as lack of language skills will not be a barrier to promotion or client development.  While many firms in Hong Kong and mainland China are "going native", their Singapore counterparts are seeking only hardworking capital markets associates with strong communication skills and work ethic.   Ties to Asia aren't even necessary.  We have placed associates at law firms in Singapore who have had no prior ties to Asia, and most law firms figure that if you're the kind of associate who needs to eat his H&H bagel while watching Knicks highlights on Sportscenter every morning, or needs to wash down that JG Melon's hamburger with a cold Blue Moon every time, you'll be screened out in the interview process.
Strong training and a fulsome deal sheet is the first priority. Of secondary, or even tertiary, importance are ties to Asia. "Straight" capital markets experience, particularly gained at a Wall Street or Magic Circle practice, is necessary to be competitive.  Associates with backgrounds in structured finance and other "varietals" of securities are much more difficult to place in a Singapore-based capital markets practice.
SO, WHY SINGAPORE?
You do not speak Mandarin, or you only speak English. While we manage to place a few non-Mandarin speakers in Hong Kong over the course of each year, these positions are getting fewer and farther between, especially for US capital markets or M&A associates.  Hong Kong capital markets and M&A dealflow is getting increasingly more dependent on the PRC, which means that both written and spoken communication with issuers, deal counterparties, regulators and other ancillary parties to a transaction will all be in Mandarin.  English-only US capital markets associates are typically placed on Southeast Asia capital markets transactions. While some of this work can be done out of Hong Kong (especially for firms without Singapore offices), much of this work is out of Singapore.  An associate with only English language skills will have a much greater chance to develop a strong practice in Singapore because his or her lack of Mandarin will not be a handicap to professional development and promotion.
You like a "real city". Hong Kong has been described as "work-hard, play-hard" as well as a college town without the college.  While that is fun for several years of one's life, there comes a time where you'd rather spend your Friday and Saturday nights talking amongst a core group of friends until 2 AM over a proper cocktail at 28 Hongkong Street instead of listening to some Filipino cover band tackle 80s standards while consuming jell-o shots out of an over-sized syringe.  Certainly parts of Singapore (Raffles Place and Boat Quay, we're looking at you) have a college campus vibe,  but Singapore's nightlife options feel more grown up, or at least more civilized.  Singapore also has a more robust indie/underground scene than Hong Kong.   While Singapore won't be rivaling the likes of Austin, TX for the title of Hippest City on Earth any time soon, you will find plenty of bars where one is more likely to hear Gotan Project than David Guetta and where one might actually feel out of place in charcoal pants, a blue dress shirt and a briefcase.   Head to the Tanjong Pagar neighborhood (approx. 5 minute cab ride from Raffles Place) and hit up Tras Street, where you can find the cleverly named O'Bama's Irish Pub as well as Talent Café, a quirky little cafe whose whitewashed walls are reminiscent of Santorini and where anyone with a dash of groove in their soul (or Dutch Courage in their veins) can pick up the microphone.
You like a large apartment. While Singapore's expat packages are anemic compared to those offered by firms in Hong Kong, you can get much more for your money in Singapore, especially as you get closer to the house-and-kids phase of your life.  US$2900 – US$3600 (SG$3700 – SG$4500 at SGD$1.25 to USD$1) can get you a 1,400 square foot apartment along the expat havens of River Valley and Bukit Timah.  One associate even mentioned that a fair few professionals who live in this area share apartments because they don't know what else to do with 1,400 square feet of space!  Singletons who want to live alone can expect to pay around SGD$3000 – SGD$3500 (US$2400 – US$2800) for a 500 square foot bachelor pad along Robertson Quay, Club Street, Orchard Road or Newton – all within a few minutes' cab or MRT ride to Raffles Place.   Some families with an outdoorsy streak live on the East Coast where there are lots of parks, and rents run up to SG$1000 cheaper/month.  According to a young married US associate living in Singapore, most young lawyers pay approximately SGD$4000 – SGD$6000 and live in condominiums along Orchard Road and River Valley, whereas families live in the Bukit Timah area (approx. 15 minutes from Raffles Place by cab).  There are some new developments in Raffles Place such as The Sail, which is connected to One Raffles Quay (a major office building which houses several law firms and banks), but you can expect to pay approximately SGD$1000 more per month for rent for such an apartment on average.
If you are interested in learning more about positions in Singapore or general expat life in Singapore, please feel free to drop me an email at Alexis@Kinneyrecruiting.com.   Of course, you can also reach out to my colleague Evan Jowers who is based in the US and works on Eastern Standard Time, but is in Hong Kong at least once every quarter (evan@kinneyrecruiting.com).
Related Posts: