Alexis Lamb here.  Just fresh off of 5 days in Singapore, where I enjoyed the night-time views at Lantern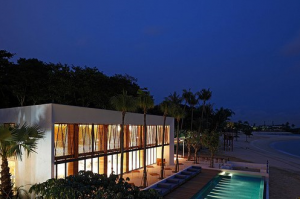 and the easy vibes of the Tanjong Beach Club on Sentosa Island, as well as some cheap and cheerful Asian food at the Lau Pa Sat hawker centre.  I arrived on January 19, which allowed me to witness the Thaipusam Festival, a Hindu thanksgiving celebration that is celebrated in Singapore by walking the four-kilometer distance between two Hindu temples while carrying physical burdens (such as jars of milk) or even body piercings!
Singapore is booming!  Every firm is in hiring mode, and some firms are looking to double or even triple the size of their office in the next year or two.  LANGUAGE SKILLS ARE A NON-ISSUE for many of the positions, which makes Singapore a key destination for English-only speakers.
Here are a few key needs which were reiterated by multiple hiring partners:
1.      Mid-Level Capital Markets Associates With A Tie To Asia: This is the big need.  Several law firms, including top Magic Circle and Wall Street/NY firms, are seeking associates with 3 to 6 years of experience (5th years happen to be the sweet spot) in capital markets.  It does not so much matter whether your experience falls on the debt or equity side, or the issuer or underwriter side.  What matters is that you have experience with bookrunning (drafting the prospectus, leading drafting sessions) as well as drafting/negotiating subscription agreements, comfort letters, opinions and all of that other good stuff which comes along with a securities offering.  Experience with Regulation S and Rule 144A is prized, as always.  Some of these roles will also offer you the chance to do some M&A work as well, although your cap markets experience will be more important when evaluating your candidacy.
What does a "tie to Asia" mean?  As one hiring partner put it, "the candidate must have a reason to be in Asia".  Growing up in Asia, having family or a significant other currently in Asia, or having lived for a significant amount of time (years as opposed to months) in Asia all count.    As one hiring partner put it, "in my experience, someone new to Asia has a 50% chance of sticking around".  Hiring partners want someone who will make them believe that they will commit 3+ years to living in Asia.  Hiring partners don't want someone who seems likely to bolt once they start missing their morning bagels, driving their F-150s along the open roads, or NCAA college football Saturdays.
While Singapore is probably the easiest Asian city for a Westerner to acclimate to – signage is all in English, it's orders of magnitude cleaner than New York, and after-work Boat Quay bars feature armies of blue shirts drinking Erdinger and bopping their heads to Don't Stop Believing – it's still on the other side of the world.
I have placed associates in Singapore who had never been to Singapore before, so having no ties to the region isn't a dealbreaker.  But, lacking ties is a negative and if this describes you, you should be prepared to convince the hiring committee to take a chance on you.
Here are a few more needs which came up again and again:
2.      INDONESIAN Speakers; Especially Indonesian-Qualified Attorneys: Indonesia is one of Singapore's key markets and many associates will find themselves staffed on deals out of Indonesia.  This means that growing an Indonesia practice is a major strategic goal for many biglaw firms in Singapore.  If you are a speaker of Bahasa Indonesia who is US qualified and has experience as an M&A or capital markets associate at a top NY or Magic Circle law firm, you will be a hot commodity in Singapore.  If you are Indonesia qualified, worked for a year or two at a top Jakarta firm, went to the US to get your JD or LLM, and are now an M&A or capital markets associate at a top NY or Magic Circle law firm, even better.
3.      ENERGY Associates: Energy work (oil, LNG, coal, mining and so on) is a keystone of any emerging markets M&A practice.  Several firms are looking for mid-level associates (qualified in the US, Australia or the UK) who have significant experience in energy transactions, particularly oil and gas or mining.  A candidate who has come from a law firm with a strong global energy presence (such as one of the elite Houston-based firms) will be sought after.
4.      INDIA Capital Markets Experience: If you are a mid-level US associate (3rd to 5th year) who has a significant amount of experience with Reg S/144A capital markets transactions out of India, there are firms who will want to hire you.  This need not mean that you are India qualified or have any Indian language skills, but it does mean that you have done a lot of work with India-based clients and are familiar with Indian listing rules (SEBI Guidelines) and common India business practices.
SINGAPORE Q & A:
What are salaries like for US and non US-qualified associates? US-qualified associates will be paid on the NY payscale.  While one or two firms are on more of a merit-based pay system, the salary figures from these firms are almost identical to their lockstep counterparts.   Some US firms will pay their UK/Australian qualified associates on NY rates as well, although UK firms will not tend to match salaries.  Firms will look to their "mother ship" offices to determine bonuses so a US associate in Singapore should expect to get what his or her NY-based counterpart is getting.
Can I expect an expat package? A handful of firms (2 or 3 at the moment) are providing their US associates with an expat package that ranges from US$20,000/year to US$30,000/year, but it is not "market" for Singapore firms to provide any expat package at all and most firms do not. We do expect that firms will start trending towards providing an expat package in the next couple of years – many firms were making noises in this direction in 2008 before the recession, and with markets on the uptick and optimism on the rise, firms are beginning to revisit the expat package issue again.
Is it expensive to live in Singapore? It depends.  A 700-square-foot bachelor pad will cost roughly the same in NY, HK and Singapore, but Singapore is by far the cheaper option if you want a house with a yard.  A house with a yard in HK is a luxury that only the richest can afford.  Eating can be very cheap – many businesspeople who work near the Raffles Place MRT stop will buy lunch at the Lau Pa Sat hawker center, an authentic and clean"food court" where you can buy heaping helpings of any kind of Asian food for around US$5 at maximum.  Drinking is unfortunately expensive (think slightly over NYC prices) because Singapore taxes alcoholic beverages, but the taxes are being reduced as Singapore is now trying to become more attractive to expats as well as bill itself as a lifestyle tourist destination.  Owning a car is obscenely expensive.  The MRT, Singapore's version of the subway, is about half the price of New York's subway (about US$1/ ride) and you can get to most non-residential parts of Singapore pretty easily on the MRT, including the Marina Bay Sands casinos, Sentosa Island and Changi Airport.  Cabs are cheaper than New York – it costs about US$20 to get to the airport and back.
What is the weather like? Air is clean and there is negligible pollution.  Singapore is on the equator so there is only a small difference between the weather in January and the weather in July.  January weather is much more comfortable and less humid – think high 70s to mid 80s – whereas weather in June, July or August is similar to that in Houston, TX or Miami, FL: Hot and humid with the routine daily 4 PM thundershower to cool things off.  You will have no need for a winter coat (or even a fall coat), but being on the equator enables you to take advantage of both Northern and Southern Hemisphere skiing as Japan and New Zealand are about the same distance away.  Speaking of which….
What's there to do outside Singapore? Bali is a 2 and a half hour flight away.  Sri Lanka is about 3 hours away, India is 4 and a half hours away, the Maldives are only around 5 hours away, and many beautiful Malaysian and Thai islands are under 2 hours away.  Singapore's airport is hub to several budget airlines so it's possible to get out of town for the price of a night on the town!
Related Posts: